Self Employed? Here's the real deal with COVID19 relief and the CARES Act
Alex Hillman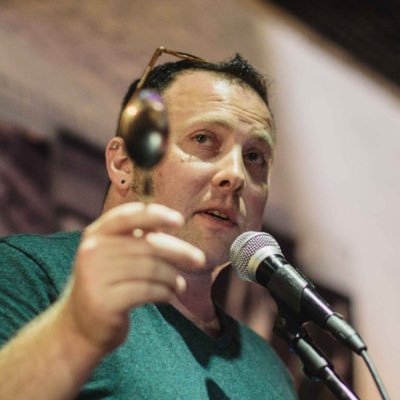 Last Updated April 13, 2020, 12:14pn
If you've been following me on Twitter, you might have seen my public exasperation with PNC Bank's horribly broken website.
This whole process makes me want to throw up I'm so angry.

— Alex Hillman (@alexhillman) April 4, 2020
I know I'm not alone. Every small business owner is grappling with some version of questions and confusion about the REAL and CURRENT situation with government relief for small businesses currently being impacted by COVID-19, and at some point, probably wanting to throw up.
On top of an already scary situation, the lack of communication and clarity means people don't know what they can or should do.
So while I am NOT an expert, I'm going to try my best to relay what I've learned as of today.
As I learn more, I'll keep this page updated.
SBA PPP loans will be available are now available for freelancers and self employed individuals.
Updated with new PPP rules on 4/13.
The PPP (or Payroll Protection Program) is a large part of the government package designed to help companies keep their people employed.
It's technically a loan distributed through local banks, though a large % (up to 100%) of it is "forgivable" as long as you use the loan within the parameters of keeping people employed.
NB: The reason I was applying over the weekend is because Indy Hall's small but mighty team is on payroll and keeping them paid through this is one of my top priorities.
But how does that help you if you're self-employed?
As of Friday, April 10th, banks are now allow to have self-employed people apply for a PPP loan.
Just like the standard PPP loan, the intent is that this money is used to pay yourself…not to go out and buy a new Macbook. The rules are a bit more ambiguous about how this will be enforced compared to a standard PPP loan, but my advice is that you should keep a VERY clear paper trail of how the money comes in and is distributed.
The self-employed version of the PPP application is mostly the same except it uses your 2019 Net Profit to calculate an amount to cover paying yourself if you've lost work due to COVID-19.
From the reports I've heard, different banks are handling this differently so the best advice is to contact the bank where you already have a relationship.
The other advice I've heard repeatedly is that local community banks (rather than big national banks) are more friendly to freelancers and small businesses, so you may want to call or email a local bank as well.
The paperwork you will likely need in order before you apply
At this time (Thursday April 9th at 5:18pm), the self-employed edition of the PPP loan application will require the following documentation:
Full color images of the front and back of a government issued ID
Quarterly tax filings from 2019
All 1099-MISC reports for 2019
Income & Expense Reports for 2019
2019 IRS 1040 Schedule C
You may need to talk to your tax preparer to gather these documents.
If and when I get a more clearly defined list of necessary documentation, I will update that here.
Keep in mind that, as of today, zero PPP loans have actually been distributed.
While banks are accepting applications from businesses with active and historical payroll, the software that connects them to the government has been struggling to keep up with the onslaught.
As a result, to my knowledge, while some loans have been approved ZERO loans have actually been distributed to businesses of any size.
---
Meanwhile, banks are were actively fucking people over by making up their own rules. 
My favorite is the banks (notably Bank of America, but I'm sure there were others) who were only accepting applications from customers with business accounts or worse, credit cards/other loans.
Thankfully (as of Thursday, April 9th), it seems BofA has changed this policy but only after being publicly shamed and possibly slapped on the wrist by the SBA.
I totally understand servicing existing customers first, both strategically and from a security/compliance perspective. But requiring loan based accounts is somewhere between foolish and predatory.
Basically, if they can't make money off you some other way, they're not gonna help distribute the government relief. Cool cool cool.
This isn't actively prohibited by law (I don't think, but I'd welcome an expert commentary) but of course, the banks are the banks. History repeats itself, and rhymes. Thanks, banks. Don't use BofA.
Mind you, you don't HAVE to apply through your own bank. Some services like Lendio have nicely built portals that let you apply once, and then they (somehow) are distribute your application to banks who want to help.
But "experts" suggest that applying with a bank where you already have some kind of business relationship is the best way to avoid falling to the TOTAL back of the line (or in our case, the back of the back of the line).
But again, until they have an application for self-employed people, what the banks do right or wrong is mostly irrelevant to people like us.
---
There's another loan that's easier to apply for, but…
This quick (5-10 minute) application puts you in line for an EIDL loan, which is tied to our government declaring PA a disaster zone.
Technically, these loans are actual loans, though the interest rate is meant to be quite low. They're only available for businesses under 500 employes, and are meant for things like payroll, rent, and other utility/expenses.
Technically, they are distributed later, though it's unclear what later really means anymore. (More on that in a second)
And technically, the EIDL loan application does have a built in checkbox for self-employed people to apply!
Best of all, this application is fast and easy.
You should be able to fill this out with mostly info you know off the top of your head, except maybe your 2019 total revenue and Cost of Goods Sold (COGS). What the heck is COGS if you're a freelancer?
Cost of goods sold (COGS) is the cost of acquiring or manufacturing the products that a company sells during a period, so the only costs included in the measure are those that are directly tied to the production of the products, including the cost of labor, materials, and manufacturing overhead.
So if you're a freelancer and services is your primary source of income, your COGS is almost definitely zero. Check with your accountant.
Finally, on the EIDL loan, make sure you check the box on the last page to "be considered for a $10,000 advance".
But don't get too excited…
First, the EIDL loan isn't 100% forgivable like the PPP one. Yes, it's low interest but is intended to be paid back.
EXCEPT (and this is confusing) that $10,000 advance is supposed to be forgivable. I say supposed to be, because the rules keep changing!
Case in point, as of today, the SBA has finally started communicating about the distribution of EIDL loans (I applied for ours over a week ago, total radio silence since).
But all of the sudden today that $10,000 advance has been reduced to $1,000 per employee and of course, no clear indication what that means for self employed people.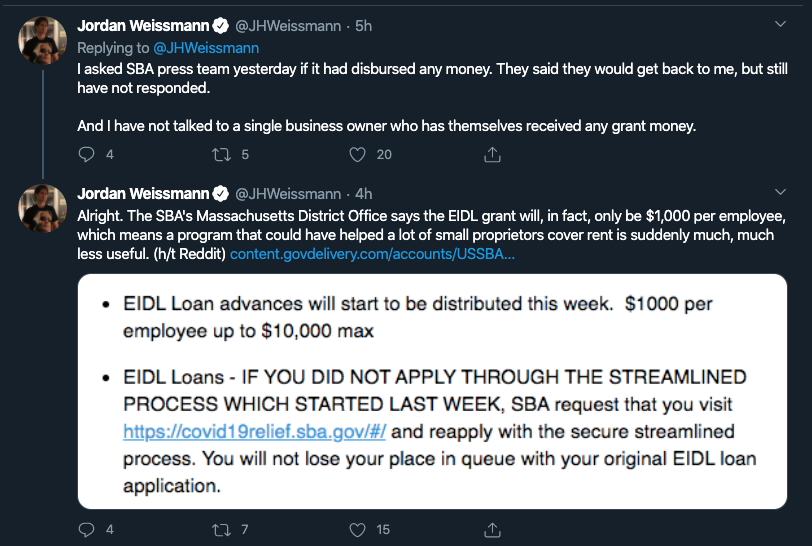 At this point, I stand by my advice from a week ago. It's smart to apply for anything you MIGHT qualify for, but don't make plans based on money you hope to get from the government.
Spent a good chunk of today talking to folks about the government's small biz support the consensus is that nobody (including folks at the city and state) ACTUALLY knows how any of it is going to work.

My advice is: apply, but keep your expectations low and make other plans.

— Alex Hillman (@alexhillman) April 2, 2020
---
What about unemployment?
This might blow your mind, but the CARES Act DOES have a provision to provide unemployment payments for self employed people for the first time ever. Wow!
But of course…there's a catch. I bet you didn't see that one coming.
What's the catch? Well…unemployment is handled state by state. That means almost anything you find documented about the new unemployment rules is referencing the new federal law… but good luck finding ANY specific details to the state of Pennsylvania.
On top of that, while the PA unemployment site acknowledges that self employed people will be eligible for some kind of relief, they explicitly say NOT to apply through the standard portal and to wait for a new one with no clues about timeline. Just "check back soon." Awesome right?

So that's what it feels like to be left on read.
Maybe you're luckier in your state? I've heard that New York State's system is functional for self-employed people and is even distributing payments via check and direct deposit.

Friend and member Marty Schneider shared this handy document on how to apply as for unemployment a self-employed person in NY State. It might provide some useful clues about what information you should prepare to have available once your Pennsylvania or state's self-employed UI portal comes online.
---
The money isn't infinite.
On top of ALLLL of this, it's very likely that the government budget for support is already oversubscribed. 
Sure, they could unlock more money. Congress is already being asked to approve another $250 million for PPP relief (update 4/8/2020). But nobody knows if it'll be approved, or how far it will go. 
Meanwhile, wanna guess who has already had their PPP loans approved? Super wealthy people. Don't be surprised, be mad.
What I'm trying to do about it.
I'm using every connection I have to try and get some kind of clarity from the state. My hope is that by saying "hey I represent a few thousand self employed people and can help you answer their questions instead of them clogging your inboxes" we get somewhere. 
But the most common answer I've gotten from people pretty close to the top is: "I don't know. Nobody does."
So the good news is, if you were feeling clueless before reading this article, you're not alone. The people in charge don't know either.
I really wish I good news, or specific tips or hacks to share. But right now…it's not great.
It's pretty bad for a lot of businesses, including single-person businesses. 
That said, this is just the state of things on Thursday April 9th. Everything is moving and changing daily, and you can be sure that I'll be sharing anything I find/learn along the way. 
I'm sharing these updates with the Philly Freelance email list, if you wanna get a short email any time I post updates, you can sign up for that.
But right now, I think our best bet is mutual support.
We should act as if nobody is coming to save us, and be pleasantly surprised if and when we are wrong.
That means finding ways to work together. Possibly creating small, local or regional lending networks.
It also means getting smart about our businesses and clear about what valuable services we can offer to the businesses who are still spending money (they do exist!), even if it's a short term thing.
We're working on resources to help with this through the Indy Hall and Philly Freelance communities as quickly as we can, so stay tuned for that.
Until then - stay safe, stay inside, and wash your damn hands.
Last Updated: April 7 2020 4:57pm