Our COVID-19 Response and Planning
Alex Hillman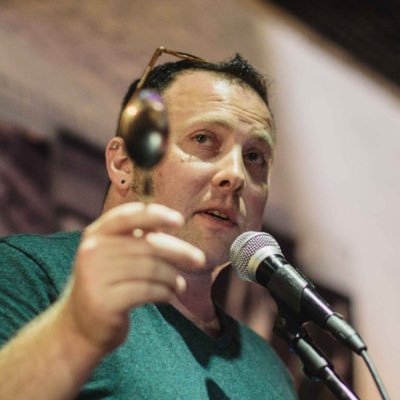 The last few days have been…pretty unusual.
Like you, the team and I been monitoring news about the COVID19 virus and the rapidly changing information about what's happening locally, nationwide, and globally.
There's been some valuable discussion among community members in Slack and Groupbuzz but for me, the hardest thing right now is not knowing exactly what happens next.
With that in mind, we want to play a proactive role in slowing the spread of this virus rather than waiting until things get to some unknown level of "worse" in the future.
At the same time, no matter how things change going forward, I want us to remember that Indy Hall's most valuable resource is each other. In the coming weeks, it's likely that many of us will experience some form of anxiety and isolation. Anxiety and isolation are precisely what we've aimed to curb as a community.
Maybe this is a time for us to shine as a beacon of mutual support in a time when folks need each other the most?
We've always operated our community along these 3 tenets, which are just as relevant now as ever:
Take care of yourself.
Take care of each other.
Take care of this place.
So as a team and a community, we're going to implement a number of precautionary measures to help "flatten the curve" while still preserving the elements of care, the availability of our shared space and most importantly enhancing our online community efforts for everybody to access some of the coworking elements from home.
The most notable and important changes right now are:
Indy Hall is staying open for now, but we're increasing our cleaning/sanitization efforts.
We're migrating lots of events and other community experiences to be online-only, and introducing more new ways to stay connected "virtually"
We're adding a rollover policy for memberships
Below, you'll find more detail about each of these changes. Please read them carefully!
1. Is Indy Hall staying open? Yes, for now.
We're paying close attention to the guidance from WHO and our local/federal health departments, and we are in close contact with our building management and staff.
While the City of Philadelphia has suggested the elimination of large group gatherings (250-1000+ people) for the next 30 days, and at this point do not have specific plans for a complete closure and instead are increasing our precautions.
We've also increased cleaning and sanitizing measures internally and with our building's cleaning staff. Cleaning staff are being trained to be extra vigilant about cleaning high-transmission surfaces like doorknobs, restroom faucets/sinks, paper towel dispensers, etc.
There is now a touch-free hand soap dispenser next to our kitchen sink. Soap + water are among the most effective ways to mitigate transmission, so we want to make it easy for you to wash your hands regularly. You can also find a large dispenser of hand sanitizer by the front door, compliments of Jess Mason, on top of the mailbox area.
We will be disinfecting desks and tables more often as well. You can help us by keeping your desk and workspace clean and disinfected using the Method spray cleaner available in the kitchen.
As much as it pains me to ask, please avoid shaking hands or giving hugs/high fives. Let's use this as a prompt to come up with our own contactless ways of greeting one another. (Is it finally time to debut Adam's signature Psi-Five*? Maybe. Maybe not. )
And it probably goes without saying but we'll say it anyway:
If you're feeling unwell, please work from home
If you are part of a vulnerable group or you are immunocompromised, or are in frequent contact with a member of vulnerable groups, please work from home.
Lastly, we're deciding as a team how to proceed with reducing our own exposure. It's likely that during the coming weeks we'll be operating with one team member (myself, Adam, or Anaia) on site at a time while the others are working from home to support the expansion of our online community efforts. Which leads me to….
2. Moving more community activity online
Many of you may understandably choose to work from Indy Hall less often over the coming weeks. But odds are you chose to be a part of Indy Hall because of the human connections, so we're going to use this as an opportunity to have our online community shine.
Most recent additions include a new channel in Slack called #brightside for finding/sharing GOOD NEWS to keep us optimistic and entertained. There is also a separate #covid19 channel if you want to keep tabs on updates and news about the virus, as well as have a place to vent and commiserate. Special thanks to Lydia Martin and Bon Alimango respectively for creating these two new channels. There are dozens of other channels to help you stay connected and productive!
That said, we know that Slack is confusing and overwhelming for some people. So if you're interested in getting more active on Slack, but aren't sure how or have questions, we're going to schedule some group sessions in the next week to help more people feel comfortable in this very valuable online space, so stay tuned for that!
We're also working to rework and/or reschedule as many of our upcoming events as possible to be 100% online through video chat. If you have an event scheduled (or an event idea that might translate to video), please let us know at team@indyhall.org and we'll help with the logistics!
If we do this right and use this experience as a testing ground for new ways to gather online, we should be able to continue creating these more accessible online experiences long past the virus outbreak.
Virtual Lunchroom + Watercooler + Coworking
I expect that we'll continue using Zoom for "scheduled" online gatherings, but with your support and enthusiasm, we would like to experiment with some tools that facilitate a sense of "presence" as well as the more serendipitous conversations that really make coworking special.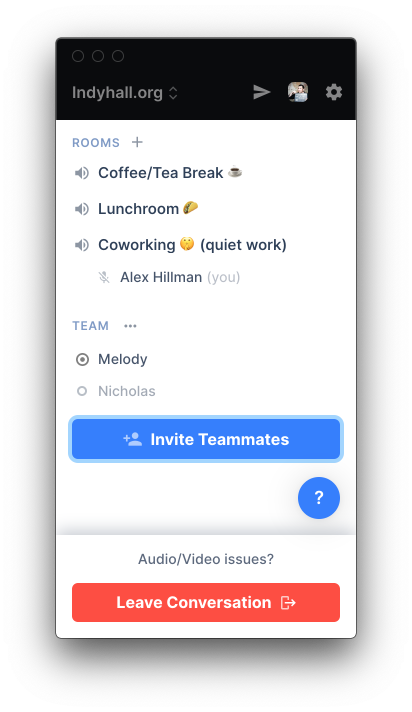 The important thing is that we are in this together. Indy Hall doesn't stop being a valuable community when you're working from home. Quite the contrary, many members primarily interact with the Indy Hall community through our online community.
So remember that no matter where you are in the world, you belong to a group of people who care deeply about your health, happiness, and well-being.
We're gonna keep doing what we know how to do, which is look out for one another and come up with as many ways possible for people to connect and help each other out.
And no matter where you are or what's going on, you can always reach the Indy Hall core team by Slack - myself, Adam, and Anaia. We'll also make time for 1-1 or group conversations via Zoom during this time when in-person conversations aren't possible.
3. New Membership Rollover Policy
Starting immediately and for the duration of this unusual scenario, any unused day passes included in your membership will roll forward into future months.
We're still figuring out exactly the best logistical way to do this with our membership management software, but while it's best for people to stay home, we want to honor your membership and hopefully reduce the needs to downgrade or cancel.
For full time members where rollover days are possibly less useful, we'd like to come up with something that is fair and of value to offer.
We're instituting this rollover policy in part because it's the right thing to do. But in the interest of transparency, we're also doing it to make sure that Indy Hall is still around on the other side of this event. A massive wave of membership changes could put Indy Hall in a precarious situation.
If you have the means to continue your membership, we'd like a chance to earn your membership through the enhanced online resources described above and a fair rollover policy that will provide more value in the future.
If you have questions or concerns about this new policy, please drop us a line to team@indyhall.org
Please keep the lines of communication open.
As we learn more and any details change, we'll continue these communications.
If you or someone you know becomes aware of ANY individual in our community or building who may have been exposed to (or tests positive for) the virus, please notify us immediately. We'll work quickly to take action however is deemed necessary.
Once again, we're in this together and we'll get through it together. As long as we stick to our core principles, I'm confident that we'll come out of this experience an even stronger community.
With gratitude,
Alex Hillman, Adam Teterus, Anaia Daigle
The Indy Hall Team
*patent pending