Share your best tips for fellow independents!
Hannah Litvin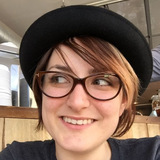 Hi there!
I'm Hannah and after 6 years of admiring Indy Hall from the outside, I finally became a member this fall.
Someone in the coworking space asked me "What brings you to Indy Hall?" and I said "What brings anyone to Indy Hall?" But a few hours later, I was still thinking about that question, and my answer, and I have come up with a more coherent attempt at tackling that subject.
A restless soul and a passion for community.
I'm here to learn, and want to contribute too.
A community can only benefit those it can reach, so I want to help expand that reach.
I've been collecting interviews and stories from people who have made their careers outside of the traditional employer-employee model. With these stories, I'm helping put together a new physical zine that focuses on the many alternative ways that people make careers for themselves.
The first edition of this zine will be released at the Philly Freelance Fest in January!
After the event, our plan is to distribute the zine around the city, specifically reaching outside of the usual tech-industry hangouts. Our hope is that people who may be on the cusp of entrepreneurship or going solo can discover it and the stories inside, and be inspired to try their own thing too.
A feature I want to include in the zine are entertaining/useful lists for and by real independent workers.
For example:
A "mixtape" track list of songs/tunes you listen to for productivity (and accompanying Spotify playlist online)
A hand-drawn map of places in Philly that independents recommend for getting work done outside of the home or office environment. (Bonus points if you're an illustrator who wants to be involved with this part of the project…HMU.)
This is where we need your help!
If this sounds neat to you, please contribute as little as 3 minutes of your time to fill out this quick survey. Your answers could improve the way someone else in the community has a successful, productive day!
Here is the link to the survey: https://forms.gle/FsM7DK62k5zUCtBK6
Thanks in advance for the contributions!