What we're going to do about Commerce Street
Adam Teterus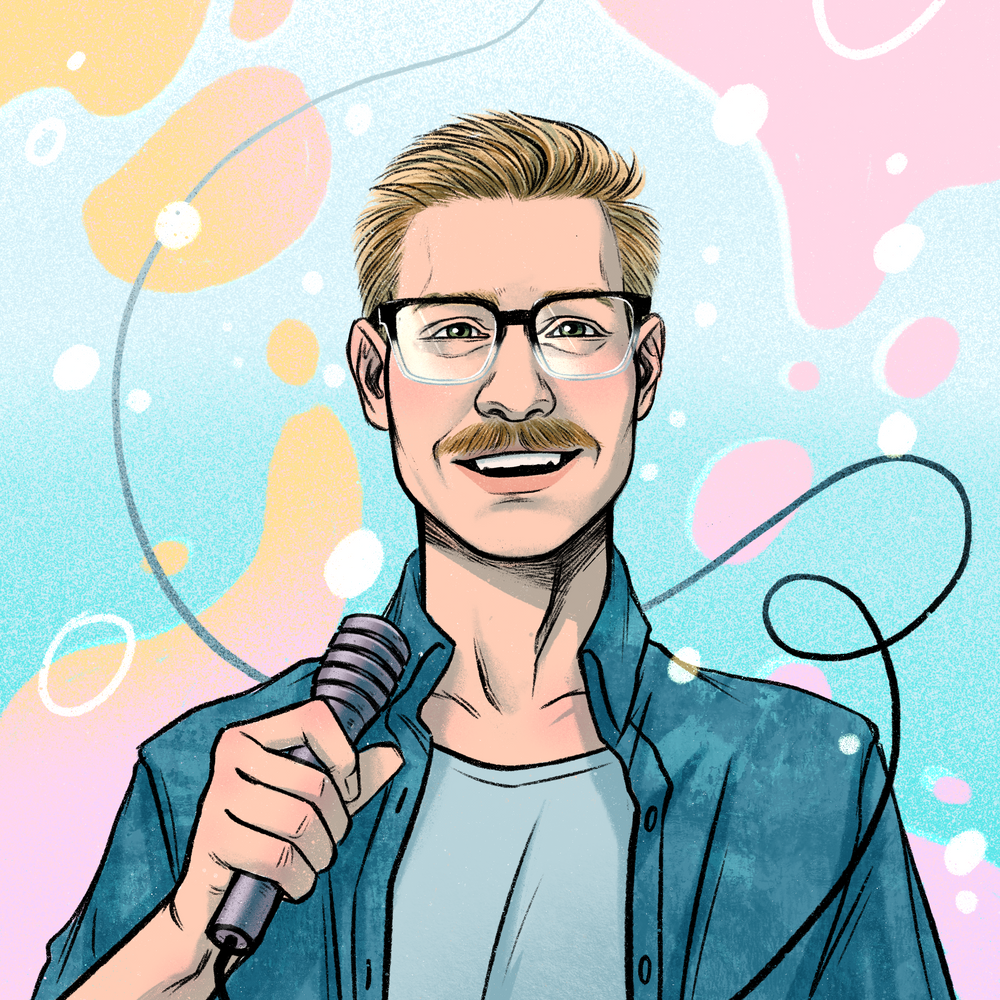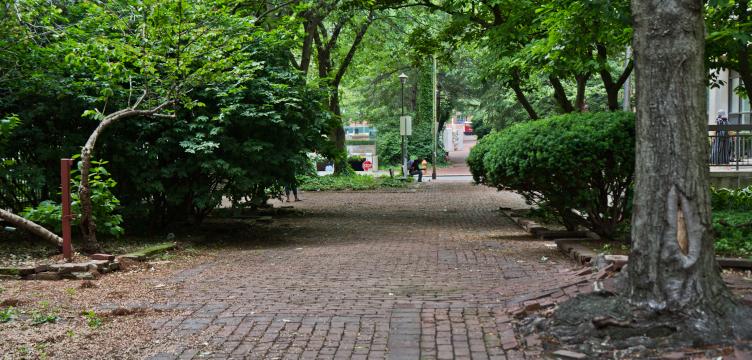 I get a workout at the gym 4 times a week. Or, well, 3 times a week, if I'm being honest. I change into gym clothes while I'm at Indy Hall, I grab my keys and my headphones, and I exit Colonial Penn through the back patio.
There are more trees back there, fewer cars, so I like using that concourse to cut through the block. I walk up a small set of concrete steps into a shaded parking area caked with mud and litter. It's the kind of space that encourages (or dares) a person to see how long they can hold their breath while passing through. It smells pretty bad back there, but it's a quicker walk to SWEAT. And that's when I hear a sound I hate. 
Crunch.
Like I stepped on a tube of glass. Because I did. Beneath the sole of my shoe, a shattered hypodermic needle. Sometimes I don't hear them beneath my shoe, sometimes I see them: the orange cap like a Tide pen dotted through the wet leaves and foliage around the short walls of what maybe used to be a garden.
That's why we hosted a safety training session
On Friday, May 24th, we held a needle safety training session at Indy Hall. It was a first for us, and apparently it was a first for Keith Freeman, Director of Safety Operations for Philadelphia Parks & Recreations. Before he started his presentation, he mentioned that this was one of the few times he would teach this material to people who actually wanted to hear it. He went on to add that he thinks this was the first time he'd been invited to teach the material to a group that isn't involved with Philly gov. Kinda exciting to hear something like that, it affirms something that I know about our community. We don't want to sit on the sidelines. We want to do what we can to make our city better.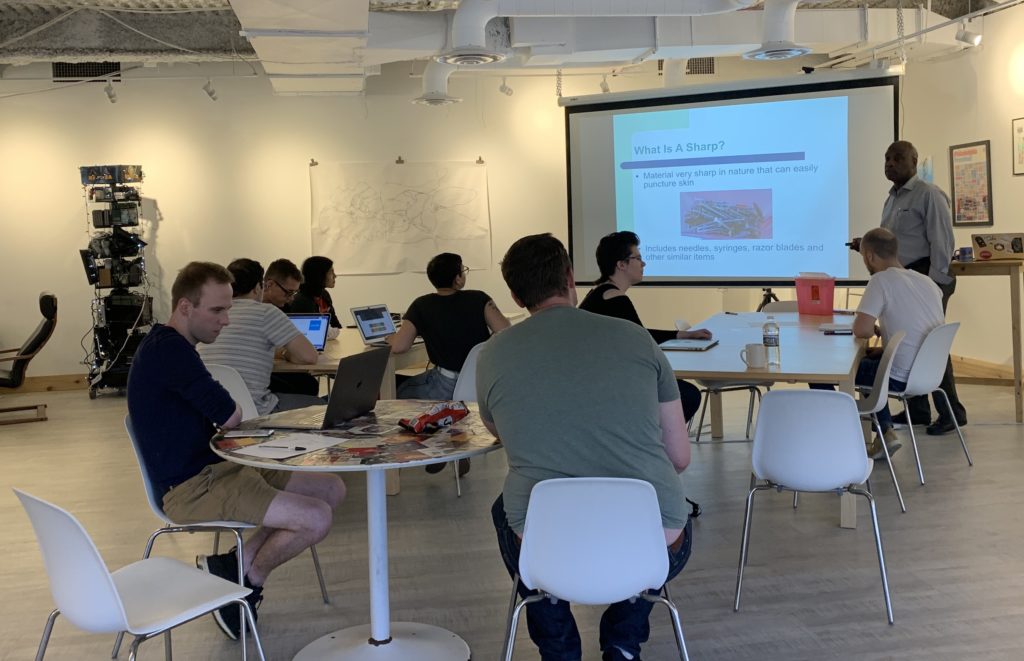 So what even is a needle training? A safety needle training is a (pretty brief) lesson in safely picking up and disposing of needles and "sharps" that could be found in places where they shouldn't be, where they could harm someone. In this case and in most cases, we're talking about hypodermic needles used for shooting heroin. 
Keith Freeman uses a slide deck to teach proper safety considerations and precautions for picking up and storing dangerous items that probably contain infectious material. The needle is dangerous, the drug in the needle is dangerous, the blood on the needle is dangerous. It goes on. Keith Freeman's slides mostly revolve around these bullets:
take your time picking this stuff up
what to wear (gloves, long sleeves, long pants)
how and where to store needles (biohazard container or milk carton with biohazard sticker on it)
common mistakes and how to avoid them (seriously, take your damn time)
Our work begins on Commerce Street
I think it's a common misconception that people suffering from addiction and homelessness aren't in certain parts of the city, as if addiction is only constrained to a certain class of person. These aren't struggles found only in "poor" neighborhoods, these are struggles that affect the entire city, no matter the neighborhood. We face these issues in Old City, it's just easy to look past that. Truly, it's easy to ignore because it's virtually hidden from the sight of most folks. Commerce Street, for all intents and purposes, is hidden from the rest of our neighborhood, and teaching each other how to safely dispose of needles in our backyard is a pretty solid way to draw attention to the physical spaces that are easy to ignore. It's a great way to gather our community and focus on Commerce Street. 
The public space behind Indy Hall is called Commerce Street. It used to be a walking space for folks back in the day, a very modest thoroughfare between a couple small buildings. Development over the years sort of folded it into animosity. It basically doesn't exist to anyone but smokers from Colonial Penn, elderly tenants making their way into and out of the Old City Presbyterian apartment complex. And it's covered in needles. 
Commerce Street has basically been forgotten by time, so much so that the Philly government forgot it was their property. You know a space has to be pretty skipped over if the local government doesn't even remember they own it. 
It's sat behind 399 Market Street for years. Years and years. And now, it's a shady haven for people who don't have a better place to go. People who need help, a warm meal, a better place to sleep, support and comfort that a musty old walkway can't provide. The people who hang out and sleep on Commerce Street have blended right in with the concourse itself, hidden to the world a block away.
Intrepid journalist and fellow Indy Haller Joel Wolfram wrote an excellent piece about the beginning of our volunteer effort. If you haven't checked it out yet, go take a look. It's an excellent snapshot of the history of the space, the problems we face, and the potential of Commerce Street as a public park. 
Help us clean up Commerce Street on Friday, June 14
So consider our attention shifted. Joel has written about it, dozens of Old City residents and business leaders have gather around a redesign for Commerce Street, Keith Freeman has given us the tools to safely tend to the space, and about dozen Indy Hall members are ready to get to work. 
First, we gather our gloves and tongs and start taking the needles and the trash out of Commerce Street.
Join us on Friday, June 14th from 12pm to 2pm as we gear up and clean up Commerce Street, together. Bring a pair of gloves, long sleeve shirt, long pants, and boots.
Second, if you want to help the homeless folks who need comfort and protection, check out Project HOME: https://projecthome.org/
And if you'd like to help us and simply learn more, stay in-touch. Follow the Indy Hall blog, come visit Indy Hall any day Monday through Friday, and reach out to me: adam@indyhall.org 
We use this motto at Indy Hall, it's a list of promises we make to ourselves and each other:
Take care of yourself.
Take care of each other.
Take care of this place.
I know that we can expand our idea of "each other" and "this place" beyond the walls of our coworking space, and give a little love to the community we belong to.
Let's start on Commerce Street.