Networking for wallflowers: tips from a former community "new kid"
Katie Arrosa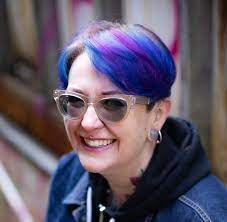 Several years ago, Indy Hall used a private-community Slack workspace for online-coworking interaction.
Slack had a bot called "Donut" whose job was to match an members randomly, and prompt them to say hello and go have coffee, lunch – or a…donut 🍩 ! – with their match.
Donut matched me with another person a few days into my first month of membership in late 2018, but I didn't have the stones to take the initiative and go say hi to my random match. I was too self-conscious, too new at this.
I regret how that fear slowed down my engagement with Indy Hall - I was a wallflower back then, so it took me an embarrassingly long time to make friends to joke around and trade resources with.
Indy Hall members use a Discord server now for online coworking. However, to my knowledge, Discord doesn't have a bot for that kind of "spin the bottle" adventure - and besides, random selection might be too jarring for certain types of folks anyway.
So to hear me out: be your own Donut.
What? How do I do that?
If you're a relatively new member of an online community, you might quickly land on a favorite Discord channel - and then a bestie or two within that channel you haunt most often. Just given that online proximity, you and your virtual buddy already have an interest in common, and you've likely gotten a sense for the other person's personality and engagement style.
In the next few days, I challenge you to read the room there and feel out if your prospective invitee would be ok with a private message to invite them to a quick hang - or ask them in the channel if you're not sure. If you only know your friend from text interactions, invite them to a 10-minute Discord call just to hear what their voice sounds like, relax together for a little bit, and chat in real time about that thing you both enjoy.
This experiment doesn't even have the unnerving randomness of the Donut bot - you already like each other!
I'm game, but I still feel a little unsure. What if it's awkward?
Share the link to this post in your favorite channel! ​If you and your friend are both aware of what I'm recommending right now for a direct invite to a low-commitment hang, your buddy could be delighted you took the lead - and not even surprised!
And when it comes time for your big date (whether it's "what are you doing right now?" or scheduled), know that you can do anything for 10 minutes. Even if it feels a little scary in those first few seconds, I bet you'll be amazed at how quickly it settles into a comfortable, familiar conversation.
If a 1:1 sounds too intense to start with, there's always the option to ask if your buddy would be interested to hang out in a group gathering. Indy Hall has Coffee Chat (a Discord-video chat held twice every morning) and three weekly Campfire hangouts on Discord voice in the afternoon.
Being your own Donut in person
The Indy Hall clubhouse at 709 N 2nd Street in Philadelphia has reopened for in-person hangs (how exciting is this?!). Spinning up some new collaboration- and conversation partners at an in-person coworking location is even easier.
According to Community Director Adam Teterus, the easiest, most casual, and most successful way of making new buds in the flesh at Indy Hall or any in-person coworking space is simply to take a lunch break in the kitchen area around noon. This low-effort tactic takes the pressure off and removes the feeling of risk with approaching people you might not know well just yet. If a lot of people have lunch at or around a conventional lunchtime, one person at the counter becomes two people, which attracts the third and fourth. 
Smooth sailing! New friends!
Say hey to an all-but-guaranteed win
My hypothesis is that folks that would self-select to join a coworking community are inherently friendly and social to begin with. I would think it's likely folks both online and IRL would be receptive to another member inviting them to hang out - either by Discord voice chat or just eating in the kitchen area instead of alone at a desk.
I also encourage you to check in with the other person to see if they'd be cool with sharing your all-but-inevitable success story with the wider group online. 
Shared stories of awesome encounters and deepened connections beget more of that, and everybody gets more out of coworking when the community gets to be a group of closer friends and valuable colleagues one friendship at a time.
Let's go! 🍩
By being your own Donut, the odds are overwhelmingly in your favor for quickly becoming at ease in (and getting more value out of) a coworking community. 
Give it a shot this week in a community you're a part of. If you're looking for a new spot to give this a try and could use a tailwind, schedule a personal tour online or in person with the Indy Hall team! 
You got this!